Vanessa Shapiro, CEO of LA-based Nicely Entertainment, talks about launching a company during a pandemic and outlines her playlist on C21 Digital Screenings.
22-09-2020
The first year is always a tough and crucial one for any new company, but add a global pandemic and an international production freeze into the mix and it soon starts looking a lot like a recipe for disaster.
Not for LA-based Nicely Entertainment, however, the prodco launched by former Gaumont exec Vanessa Shapiro earlier this year before countries around the world started going into lockdown.
Nicely has managed to weather the storm, setting itself aside from the competition by dedicating itself to a specific niche and specializing in a particular genre: holiday and romance programming.
This approach has enabled Shapiro and her team to put together a slate composed almost entirely of original productions, only a handful of months after the company's birth and all while jumping through Covid regulation hoops.
"When we started the company in January, we had a slate of 10 movies that we were going to release in 2020. Of course, because of the three months of production shutdown, that slate got reduced to seven," Shapiro says.
"Now, I feel extremely fortunate and blessed that we were still able to coproduce and distribute seven new movies in our first year of business. Being able to deliver seven movies is still a very strong slate to have for a first year in business and in the middle of a pandemic."
Shapiro has good reason to be proud, her firm having overcome 2020's various curveballs to present prospective buyers with original holiday and festive titles to fill slots for the upcoming holiday season.
Nicely's first ever slate includes festive TV movies Lonestar Christmas, Christmas on the Menu, Save the Wedding, This Little Love of Mine, A Very Charming Christmas Town and The Christmas Listing, plus thriller movie His Killer Fan.
The first two original Nicely projects to wrap production were A Very Charming Christmas Town and The Christmas Listing, which Shapiro says were shot and produced in the opening months of the year, before the pandemic upended the industry.
"During the three months of the lockdown, right from March to basically May, we had a slate of movies that were supposed to go and start shooting. Unfortunately, because of the pandemic, everything stopped," Shapiro says.
"As soon as the bans were lifted and we could start shooting again, we went on to do Save the Wedding, This Little Love of Mine in Australia and then the two new Christmas movies, which are Lonestar Christmas and Christmas on the Menu.
"All of a sudden, between June and July, we basically had four movies going into production in different parts of the world with several production partners. That month was crazy. The good news is now everything is being delivered and that's why we're able to release so many new titles right on time for Mipcom."
The exec says the decision to focus production primarily on holiday content was to respond to the high demand for the genre in the US. All of Nicely's titles have already found homes in the US, with many picked up by Lifetime.
"The high demand in the US for holiday movies has been the driver for our high volume of Christmas movies. Half of our slate is dedicated to the genre."
In addition to the strong presence of Nicely in the US, Shapiro says the company's offering also caters to various international markets, pointing to successes of the holiday titles in the UK, France and Australia.
"All our holiday titles this year will be airing in the UK, so there is a big appeal for these feel-good movies. During the holidays, audiences want safe, family-friendly, feel-good movies – and that's what a Christmas movie is all about.
"You just want to escape the reality, and with everything we've been through this year, there's a big appeal for non-violent, non-dramatic, just plain feel-good movies," she says.
Nonetheless, Shapiro is not looking to operate exclusively within the niche world of Christmas and holiday programming, as evidenced by thriller movie His Killer Fan, the odd one out on Nicely's slate.
The TV movie is an acquisition on the slate and Shapiro explains that the title is part of a broader attempt to diversify Nicely's offering in order to appeal to wider markets.
"Internationally, we want to please all our partners too. We are a global distribution company and, therefore, we will also offer more non-holiday content. I really wanted to expand the rest of the slate to include other genres," she says. "We're going to stay in pretty much the romance or holiday spheres, but we are trying to diversify, not just to make holiday movies.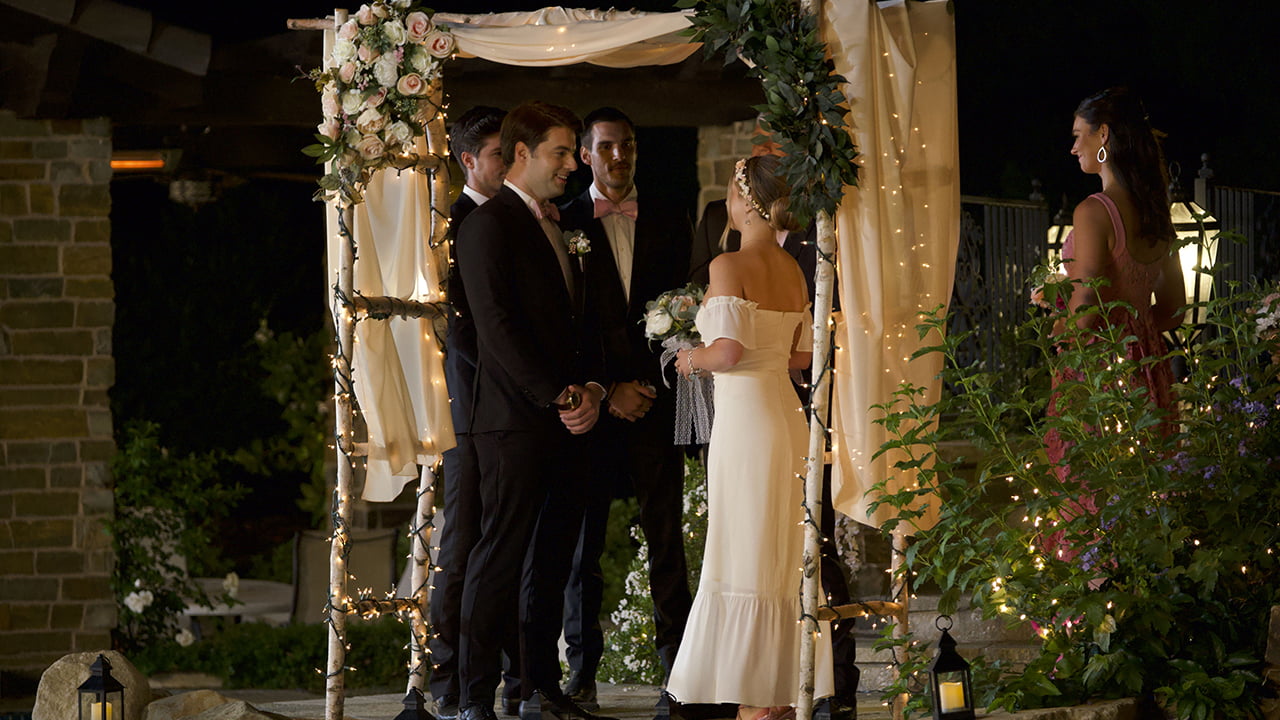 "Every channel has different needs. Some channels, like those in the Middle East, for example, are not going to buy any Christmas movies, but then they might find the thriller and the romance titles interesting. Depending on where you sell those, there are different needs.
"In regards to the volume and genre of titles, we will probably only do two or three thrillers a year. The majority of the slate is going to remain holiday content, and then second on the slate will be romance movies. Additionally, we're looking at doing some acquisitions of kids' and young-adult content. This is just to open up our offering and appeal to new customers and new audiences."
Operating within a niche means Shapiro has to work extra hard to keep her offering refreshed and diversified, which she says is achieved by finding "original ideas and things that have not been done before."
As such, Shapiro has focused on female-led projects that present novel takes on universal holiday themes – something she says she "is drawn to personally." In addition, the company has opted for diverse shooting locations.
"The one we recently coproduced with the Steve Jaggi Company in Australia called This Little Love of Mine was a great experience. The whole process and the cast and the crew did an amazing job," Shapiro says.
"It was shot in the middle of the pandemic. Australia was not as affected as the rest of the world, so luckily we were able to shoot it in Cairns in a beautiful, tropical location on the beach.
"You're there to escape reality. For an hour-and-a-half, you're actually on that beach with the blue water, the sand and the coconut trees. It allows you to travel without leaving your living room."
Shapiro believes the uncertainty caused by the pandemic could work in Nicely's favour, with reduced travel expected over the holidays and more families choosing to remain at home.
"We live in an uncertain time, and we don't know what's going to happen for Christmas this year. People are probably going to stay home, because they're not going to be able to travel. This year, more than ever, we're probably going to rely on all these great Christmas movies on TV for entertainment!" she says.
Nicely already has one eye on 2021 and is making preparations for the upcoming year, with Shapiro and her team aiming to bolster the company's slate and broaden its offering.
"Internationally, channels' needs and buying patterns have changed this year because of the pandemic and budget restrictions. Everything has shifted. Timeslots and programming grids are being pushed. Channels are trying to figure out what their needs and budgets are going to be which is affecting planning for next year.
"On our side, we're working on a slate of 12 movies for 2021 with our next movie starting principal photography at the end of September. Our goal is to release between 10 and 15 movies a year. We're probably going to have five or six Christmas movies on the slate. As a distributor and producer, the rest of the slate will be driven by the global demand. We are aiming to be re-active to our clients' needs and produce genre in high demand."
All in all, it has been an unusual freshman year for the LA prodco, but Shapiro has managed to stand strong amid the uncertainty and offer an enticing slate for the holiday season. It all seems to have come along quite nicely.